I went up the stairs with a bottle of red wine in my hand. The door opened, and a guy with a bald, scarred face stared at me. I wasn't really scared, but that truly wasn't what I had expected. Toni laughed and let me in. "I wore this mask for the promo picture of the new record", he said, taking it off. We went into the living room, opened the bottle of wine, and Toni showed me the pile of records he had chosen for this evening. This was not going to be a normal interview. We agreed on having a meeting where Toni would play me his favorite records, as if he were recording a mixtape for me. So we sat down in front of the record player and I turned on my camera while Toni fetched the first record out of the stack: ENNIO MORRICONE – "Once Upon A Time In The West"
[from the 7", 1968 / German: "Spiel mir das Lied vom Tod"]

This is one of my first childhood memories: There is a man hanging on the gallows, standing on his brother's shoulders, and then Henry Fonda says to Charles Bronson, "Play me the song of death." This scene made such an impression on me that I watched the whole film. I would say that, besides Rocky, this is the most important film for me.
Rocky also affected me a lot as a child. When I was a kid it was Rocky I to III, and then when I became a teenager it was Rocky IV. So this was the first film that I saw more with the eyes of an adult. I also had the soundtrack on tape. It has a really strong '80s kind of sound.
[Sings] "There's no easy way out!" Isn't that with Robert Tapper?
And the SURVIVOR songs!
"Eye Of The Tiger" was from Rocky III.
It was the one after that. What was the title? "Burning Heart", I think!
[Sings] "In the burning heart, just about to burst!" I also have the soundtrack. Shit, I should have brought it with me!
There are these great instrumentals on it.
Yes, "Training Montage", when you're doing like 50 pushups – in three days.
Right, and then you watched Rocky, and then afterwards you went, "Now I go to the boxing training!"
Alright. What am I doing now? Some punk, maybe. When I do a mixtape I start with something weird, and then I continue with punk. Let's start with my favorite band from my hometown, Hagen:

SOUL INVADERS – "Dead Man´s Eyes" [from the 7"]

They're really good, especially live. On the record it's so-so, but live they're really strong. Before they played in a band called HEMMUNGSLOSE EROTIK. So, mixtape-wise, this would be the first real song after the intro.
Actually I started with punk. I come from a small village. All we had was radio, and so when I started listening to music I was depending on what played on the radio. Stuff like a-ha. Then a friend started listening to DIE ÄRZTE, and through them and DIE TOTEN HOSEN I found punk rock. But then shortly after this, a friend brought me some METALLICA, and then I was hooked on metal.
Where do you come from?
I come from Ahlhorn. That is near Oldenburg.
Ok. So as I said, this band is awesome live. The singer is called Kaktus, and he is the greatest MISFITS fan that I know. Back then he wrote handwritten letters with Glen Danzig, so they're friends. He has a whole room just for MISFITS stuff. Everything that's available from Misfits and DANZIG – he has it there.
Crazy! Later, when I already listened to metal, I also continued to listen to punk. SLIME, BAD RELIGION, a little bit of NOFX, this kind of stuff.
Well, then I'll play you the second band from my home city now, and then we can close the chapter Hagen:

DOOMTOWN – "Forever Fucked" [from Forever Fucked, 2004]

Where exactly is Hagen?
Hagen is not Sauerland, not Ruhrpott, but five S-Bahn stations from Dortmund, towards Sauerland. EXTRABREIT, NENA and GROBSCHNITT are from Hagen, and the city still profits from this. They say, "Come to Hagen – become a pop star."
Doomtown is almost hardcore. They played in the USA and in the whole of Europe.

GOD MACHINE – "All My Colours" [from Home 12", 1993]

Alright, now I become a little bit emo. This is one of the most important bands for me. I will even take off my hat for this. God Machine. Nobody knows them. It's a maxi single, a cover version of ECHO AND THE BUNNY MEN. For me, the music is even darker than JOY DIVISION or this kind of stuff. They released two records in the early '90s, on the label of THE CURE, Fiction Records. During the recordings of the second album in Prague, during the mixing, the bassist got a really bad headache, so they went to the hospital. He died the same night of a brain tumor. Then they released the record in the last version that he had heard. This is the darkest, saddest music that there is. This maxi is worth now around 300-400 euro because in the '90s they were producing less and less vinyl records.
These are the most expensive vinyls from this time. Brave New World from IRON MAIDEN was only released as a shabby picture disc with a bad sound, but nevertheless it's very expensive because it's the only original vinyl available from this record.
I bought One Last Laugh In A Place Of Dying from GOD MACHINE for 12DM [6 euro] in Hagen, and I even gave one away to a friend. It's plain white, with nothing on it. But my copy is full of fingerprints because I have been listening to it for twenty years now. So one day I took a look at Discogs – there is one pressing, I could have paid my rent for two months with this! But I had fun with it. I hate this whole collectors thing when it's just about what it'll be worth later. That's bullshit. What is priceless is the joy I had with the record.
They still sound a lot like the '80s, very melancholic. Also when it comes to the vocals. I like the dominant drums.
It's more something for a red wine evening. Rather a downer. You'd give this to someone you know very well. I wouldn't give this to a girl I have a crush on – at most to show how profound I am. But this can go the wrong way.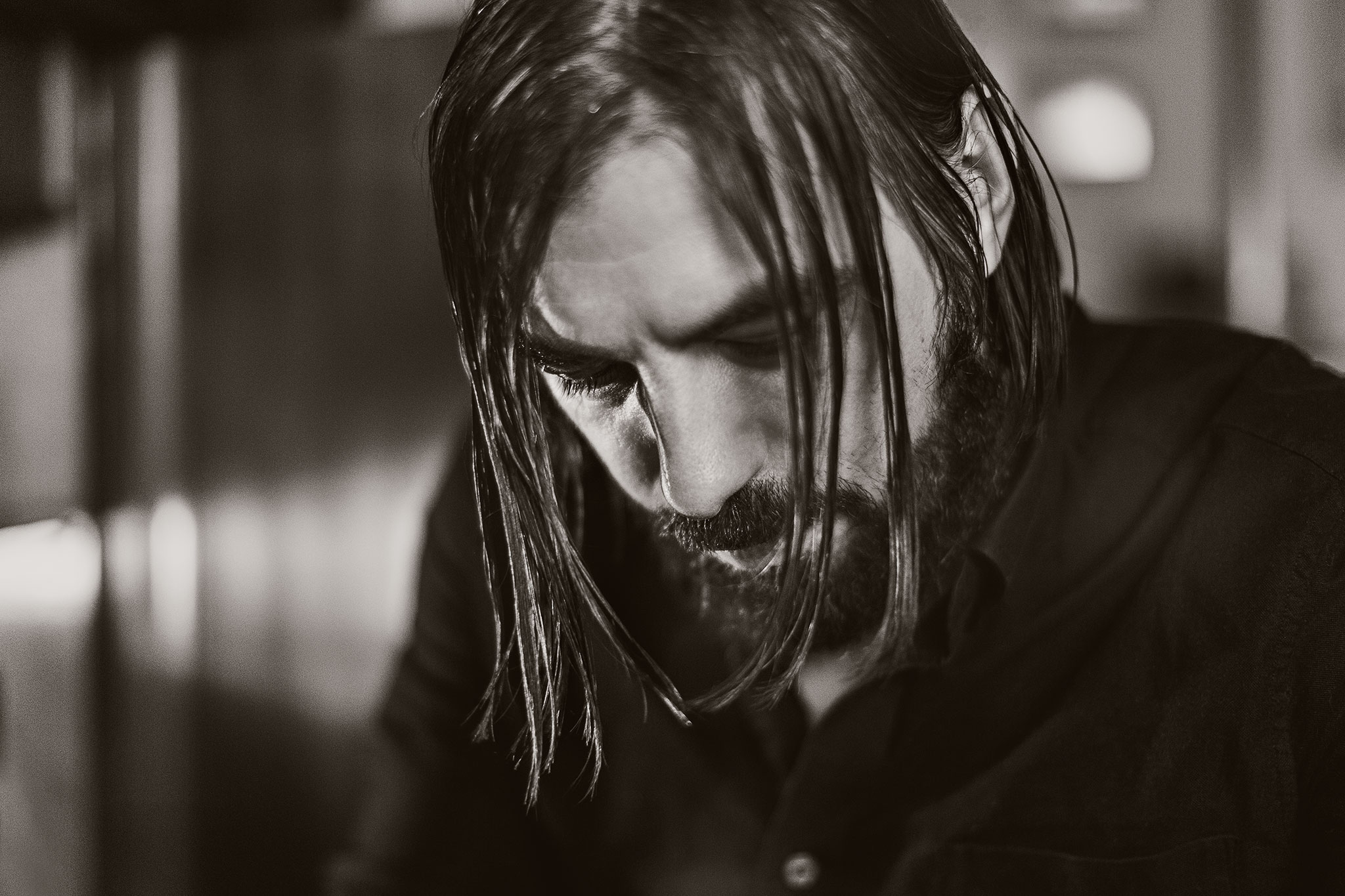 What can I play after this?
It's gonna be difficult to get out of this mood.
I've got an idea. Watch out, I must not forget this in any case. Where is it? [He digs in the pile of records] To lighten up the mood I'll play the first punk:

JERRY LEE LEWIS – "Money" [from Live at Star Club, 1964]

I think the record was already in stereo. This is an album I like to put on when we sit together or when I celebrate my birthday. Especially the song "Money", because for me this is the absolute punk rock song. How he hits the keys! And the drummer!
Play this at double speed, and you have the Sex Pistols.
Yeah, right! Pay attention how he goes off; this is fucking live! This was at a time when the people thought Elvis Presley was the devil. "Your love gives me such a thrill, but your love can't pay my bills" – this is simply punk, totally punk. Not Vivienne Westwood and the SEX PISTOLS. They invented the term but not the music.
Johnny Cash was also a punk.
Right, totally. I'd really like to have been there, back in the days. There is still cool stuff today, but I believe this was the absolute birth.
In part two of our conversation we talked about more records by artists like Roy Orbison, Faith No More, Pearl Jam, Depeche Mode, Saint Vitus, Dead Can Dance, Dead Moon, Fields Of The Nephilim and much more… and even a little bit about (Dolch). Read the full interview alongside with fullpage portrait photographs in the print issue of DEPICTED. Get your copy here:
Read on: