Interview with Shazzula from Wolvennest / DEPICTED #1
The weather had been quite unstable on the Neudegg Alm above Abtenau in the Austrian Alps. But I was lucky: when the entourage of WOLVENNEST arrived on the compound, the sky had cleared, and it gave way to a stunning view across the mountain tops surrounding the festival site. So I walked down the hillside to find Shazzula, to convince her to walk the steep slope back up with me towards that spruce forest lingering behind the meadow. I was successful, and so up we went to disappear into the dark woods. It wasn't easy to shoot in this jagged landscape with a lot of rocks in the way and tree trunks laying around. But we managed not to break our necks, and took some really good photos. Unfortunately there was no time to do an interview, so the following conversation took place months later. Shazzula is an interesting name. Where did you find the inspiration for it, and does it have a meaning?
Well, in the early days of Napster, I spent some time there exchanging musical interests with some people. Everyone was calling me Shazz – Shazza – Shazzi there. This finally ended up as Shazzula for a burlesque show for Wild Weekend. It is inspired by the vampire movies – a mixture of Shazz and Dracula, if you like.
Did you start DJing and singing at the same time, or did one of them come later?
Hmmm. It was at the same time, but let's say I had my ears into music from the early days. But honestly, nowadays, I am neither a dancer, nor a DJ. Well, I still do DJing, but no more with LPs or 7-inches.
What do you use instead?
It depends. I have a controller with turntables. Also I love Fisher Price. It is just a matter of situations. The gear, I don't mind; the support, I don't mind.
Do you have some fixed song structures or parts that you play every time you DJ, or is everything 100% improvised?
Yes, I do have playlists but it is always improv anyway.
Unfortunately I am a total noob when it comes to electronic music. Is there a name for this particular style?
I started when I was nineteen, with records I found in markets, fairs, and mailorders. All these years I DJed with records. My first records were electronic UR techno [UR = Underground Resistance]. Then I changed the type of records with the years: '60s and '70s rock, and now back to electronic industrial techno. Let's say I'm very eclectic. But I do not call myself a DJ. I am just a music addict, and I love reading about music. So I am not stuck in a particular genre.
I suppose WOLVENNEST is not your first band? How did it all start as a singer for you?
Kirby Michel approached me because he knew I used to sing in a French band years ago. He asked me to join the Nest, which I accepted after listening to their first recordings, in which Marthynna was singing.
Is it easy for you to go on a stage and sing, or do you have stage fright?
I am not afraid of going onstage. Actually, I am more afraid of forgetting my lyrics.
Yeah, that would also be my fear. Are you writing the lyrics for your vocal parts on your own?
No, we work together on the lyrics.
I didn't find any lyrics. What are the songs about? Any returning motifs, or is each song individual?
There's a reason why we don't publish the lyrics. All I can say is that they are honest, and based on experiences, visions, and observations. On the other hand, it's quite easy for the listeners to get the lyrics by themselves. It's not like we are hiding them one hundred percent – since it's mainly clean vocals on the records.
Fair enough. You use a special instrument – the theremin – which is not seen very often in rock music.
I started playing the theremin around 2005. When I play it, it's all improvisation. I am hearing music in my head, and the theremin turns it into sound.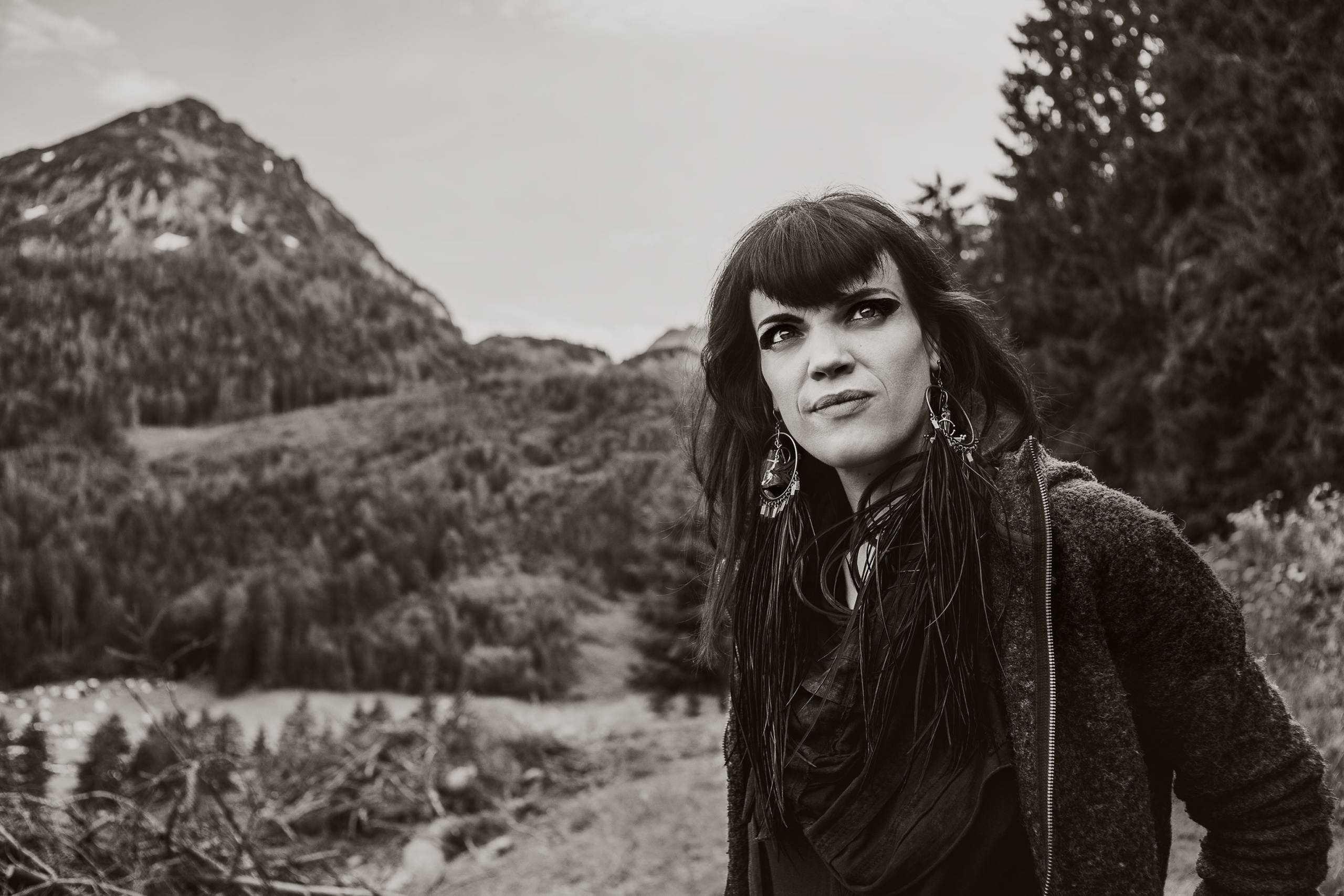 You are also a filmmaker. What kind of film projects are you working on?
There are a few films at this time. First I am trying to finish a film installation. It is a trilogy made with vintage 16 mm films and drones. The first film was made in Mongolia: The Essor [released in 2018]. The second film will be filmed in Scotland and Ireland; the Icelandic part is already made. Part three will be filmed in Mexico and Peru. The soundtrack is a collaboration between the hurdy gurdy player Matthias Loibner from Vienne, Warren Ellis on violin, and myself on synths and effects. It is a very cool ambient soundtrack, a conceptual installation, let's say – with sound and visual spatialisation. Also I am working on the series Visions Partielles De L'enfer with Daniel Dujeux. For this project I make the soundtracks together with Deha, the producer of Wolvennest. It's a very dark narrative and surrealist series. Besides those I am working on other visual projects, like collecting visuals for some live solo performances. I always make visuals for live performances. Except for Wolvennest – these are done by Leslie from ATLC.
You also filmed and directed the Black Mass Rising movie. It's made of 22 segments with music by 22 artists. So is it a bit like a compilation of music videos with a coherent visual concept?
Well, I don't like the music video argument. You see, that film is also very conceptual. It was made in 2010 and released in 2011. It is, in sound, a compilation of awesome artists coming from different horizons. But in terms of visuals, it is something other than a video clip. Conceptual – I hate that term anyway. At first it all came from the fact I had crazy footage done with my phone on my travels, with friends and from life situations. It was not made to be seen. But then I thought, well, that I should do something, instead of losing all this crazy footage. But at first, I did all this for myself. Then I met Phil Marie, who saw the movie and heard the soundtrack, and then he wanted to start the label. At the time not many people would have made a 120-minute movie with a shitty phone, but it was like a way to challenge myself. My approach is more artistic than making money by making video clips. Also, I was hanging out, and still do, with Cosmas De Xam. Together we wanted to outdo ourselves on our productions, and we have been motivated for years.
I also noticed that you are working mostly in black and white. Why do you prefer monochrome over colour?
It's just a matter of sensitivity. Also, I like to offer to the eyes what they're not used to seeing. Black and white has a surreal side to me.
Is there anything in the pipeline from the Black Mass Rising label that we should keep an eye on?
We will re-release Trumps From The Tarot Cards And Pinions by RUTH WHITE very soon [experimental electronic music from 1969]. It is a limited re-release, and it will be a remastered version.
Ok, thanks for the interview!
Read the interview on real paper alongside with fullpage portrait photographs in the print issue of DEPICTED. Get your copy here:
Read on: